Financial institutions around the world are strengthening their model governance to manage their exposure to model risk. This often translates into extensive and transparent model documentation requirements. Model documentation provides model users, validation teams, and regulators with a thorough understanding of how models work and how they should be used. In practice, each model should have the appropriate documentation that explains the model's purpose, intended design, complexity, limitations and assumptions, and historical observed performance for stakeholders to make informed and timely decisions.
Despite the emphasis regulators and senior management teams place on adopting and implementing a thorough documentation process throughout the model lifecycle, many model development and validation teams struggle to keep documentation up to date and sufficiently detailed, typically due to a lack of resources.
Ideally, the process of generating model documentation should be centrally managed and automated. However, given that most of the time only generic (internal) guidelines (e.g. via templates) on acceptable formats and content of the documentation exists, organizations tend to adopt a decentralized documentation approach that often leads to inconsistencies and poor quality.
Incomplete documentation is considered one of the largest barriers to respecting validation timelines. While model documentation is critical for effective model risk management, the process has evolved into a time-consuming and cumbersome process that is challenging to standardize.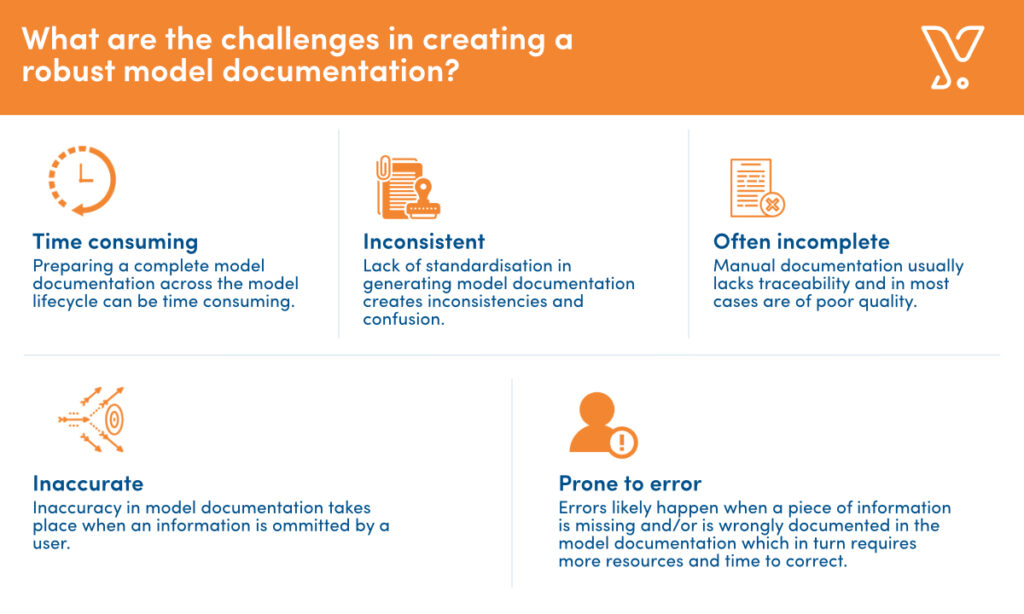 Our technologies, Chiron Enterprise & Chiron App, address these industry challenges and include functionalities to automate and standardise the model documentation process.

Chiron Enterprises standardises the structure and the layout of all model documentation, while Chiron App automatically populates the documentation templates as part of the execution of quantitative tests in the tool.
By automating the model documentation process, we free up time for model development teams to focus on the development of new models and the maintenance of existing ones. Furthermore, the improved consistency and accuracy of the documentation enables model validation teams to perform their independent review with greater efficiency.
Chiron Enterprise's Model Documentation Builder
Chiron Enterprise's new model documentation builder is equipped with the following features to ease and standardise model documentation:
Integration with Chiron App's Automation Engine
Through the native integration of Chiron Enterprise with Chiron App, we combine standardisation and automation capabilities to enable financial institutions to bring their model documentation process to a higher level, and thereby reduce the opportunity for model risk to arise.
Benefits of the automated documentation capabilities in Chiron App: